EP Ranch
The central figure for the EP Ranch is, of course, Edward, Prince of Wales. After a cross Canada tour in 1919, during which he was hosted by George Lane at the Bar U Ranch, the Prince decided to buy his own ranch in southern Alberta. The ranch is now a designated Provincial Historic Resource.
1886
The Bedingfield family established a homestead and ranch, the Running N. Both Agnes and her son Frank had worked at Bar U before striking out on their own. 
1908
Agnes returned to England and Frank married Josephine Maitland.
1919
Frank and Josephine decided to return to England and sell the ranch to Edward, Prince of Wales. The ranch name was changed to EP, and it became well-known as a centre for breeding excellence. Professor William Carlyle, previously a veterinarian at Bar U, managed the ranch, and was also President of Eden Valley.
Image Left: Bedingfield Ranch, 1914 | Image Right: Albert Olsen and Joseph Bedingfield, 1919
1923
The first of several visits by the Prince of Wales. He also visited in 1924, 1927, 1941 and 1955.
1956
The EP Ranching Co. was established.
1962
The ranch was sold to Jim Cartwright of the adjoining D Ranch.
Image Left: EP Ranch, 1919 | Image Right: Edward, Prince of Wales and the Big Four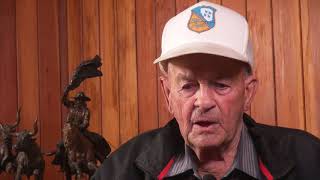 I drove up from Longview down to EP Ranch. I got to the EP Ranch and there were horse buggies and saddled horses and everything."
Oliver Perry
"
Image Left: Sheep on EP Ranch, 1927 | Image Right: Actor "Hoot" Gibson and Ranch Manager W.L. Carlyle, 1925
1984-1989
The house was operated as the Prince of Wales Teahouse.
2004
The ranch was designated a Provinical Historic Resource. It is currently privately owned and several buildings have recently been restored.